Groovy Green Jell-O Web Award
---
Frankly, you do deserve an award
just for visiting MrsMegaByte's Martha Stewart parody site.
You've earned it! Enjoy!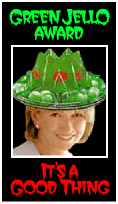 118 x 204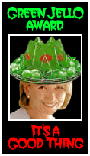 90 x 156

Simply right-click to download, or Mac users hold down your mouse button to download.
And of course, a link back to MrsMegaByte's site is greatly appreciated.
Following is the preferred URL:
http://mrsmegabyte.tripod.com/