The Martha Stewarts'
of the '70's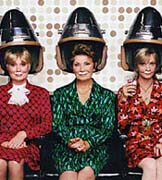 "Don't play ball in the house. Go to your room.
Here's another all-time great mom line: Eat your green Jell-O.
Unlike hairdos, Martha Stewart's fusion-style
cuisine will always be in style. So, sample some green Jell-O at Mrs. MegaByte's.
Groovy!"
Elvis Sighted in:
Oz, Metropolis, Atlantis...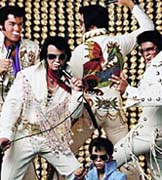 "There's a ton of sightings out there, baby. So anytime ya see me, just ask about the original rockin' time I had over at Miss MegaByte's shakin' shindig.
Cause 'lil mama, Martha Stewart sure moves some pelvis in her uke and hula solo!
Thank you very much."