| | | |
| --- | --- | --- |
| | The Martha Stewart Party Parody Collection... | |



MrsMegaByte's brutally bombastic bash with guest of horror, Martha Stewart continues. Enjoy!
Martha Stewart's visit was just perfectly lovely!


---
The party goers were all absolutely stunned by Martha's impromptu hula and ukelele solo. But best of all, her jiggly green Jell-O really stirred something in the crowd.

Martha Stewart was accompanied by her current beau, whom she would only refer to as "B" (for BUFF... or BIFF... or maybe even BOFFO, as we all had surmised).
| | | | |
| --- | --- | --- | --- |
| | | | |
| Martha's Date: | Buff | Biff | Boffo |
Quite unexpectedly, a bus-load of Martha Stewart groupies, who lovingly refer to themselves as "Stewies"
dropped by for a little bite of

and a rowdy night of R&R.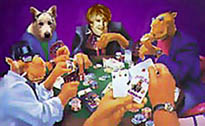 The joint was certainly a-smokin', and so was madcap Martha Stewart.
---
Unfortunately, there simply wasn't enough of Martha Stewart's very special recipe for



to satisfy the hungry hordes.
 
The crowd had become crazed, dancing in a conga line, continuously chanting:

---

The horror continued... Very scary, indeed!
| | | | | | |
| --- | --- | --- | --- | --- | --- |
| Martha noticed that several of her closest cousins were and smiling at her prized dog. | | Naturally, Martha Stewart's dog sensed that something wasn't quite kosher. | | Fortunately for Martha's Chow Chow, a seat opened at the poker table, allowing Martha's dog true anonymity. | |

Martha Stewart had a brain-storm!

Oh Boy!


Martha realized that she had a generous stash of party goodies in the trunk of her car.

It must be time for one of those infamous Martha Stewart trendy theme dinners! We could only begin to imagine the endless possibilities? EEK!
---

In a moment of robust merrymaking, Martha Stewart proudly reveled onward in rare form.


"I be
MEAN,
And I be
!"

But Martha Stewart's groupies boldly expressed their enthusiastic approval for
Martha's home-grown stash with an even more frantic, chaotic, and boisterous chorus of:


The

had spoken.
---
Horrors! Little did we know even then...
If you dare to know more about Martha Stewart's recipe for fun:
| Continue the Party! Get "Greened" with Guest of Horror Martha Stewart |
| Back to the Top of this Page |