Welcome to
Martha Stewart's Private Museum
Following are just a few of the masterpieces featured in
Martha Stewart's treasured art gallery and Odditorium. Enjoy!
---

Mona Martha
Leonardo Da Vinci - 1502
The famous Mona Martha is so often viewed as "Living" on television and in advertisements hawking magazines, paint, and K-Marth, that we sometimes find it difficult to see her as a real person of flesh and blood. Like an actual living being, Mona Martha Stewart seems to change before our very eyes and to look a bit different each time we revisit her.

Sometimes Mona Martha's "sfumato" seems to mock at us, yet at other times we see a mysterious sadness in her smile. Frequently, Mona Martha's many expressions are known to simply elude us?
---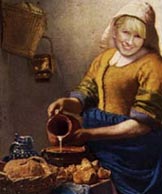 The Cook
Vermeer Van Delft - 1660
Apparently Martha Stewart has been cooking up good things for quite some time... Martha Stewart inspired many a seventeenth-century Dutch painter with her "beautiful vessels filled with wine and appetizing fruit or other dainties invitingly arranged on lovely china."

These still-lifes were paintings that would go well in any dining room and would surely find a buyer. Sound familiar?
---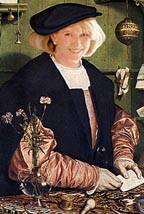 Georg Martha S. Gisze
Hans Holbein the Younger - 1532
The Stricter Calvinists objected to luxury such as gay decorations of houses. Where permitted, the climate and style of the buildings was usually unsuited to large fresco decorations.

But, in Holbein's earlier portraits, he did not want to obtrude himself or divert attention from the sitter. It is for this precise masterly restraint that we admire him most. And, so does Martha Stewart.
---

Discobolus Marthus Stewartopolis
(Discus Thrower)
Myron - 450 BC
The movement and attitude look so convincing that even modern homemakers have adopted Marthus as a role model and have tried to learn this exact Greek art of dishes. But this has proved less easy than most had hoped. They had forgotten that Myron's statue is a legendary Greek work of art, and that most of Martha's speak is Greek to the rest of us.

Whether or not this corresponds to the most suitable dishes is hardly relevant? What matters is that Myron captured Martha's dish movement, just as painters of his time conquered space.
---

The Birth of Venus Stewart
Sandro Botticelli - 1485
Even as long ago as the fifteenth-century, artists and poets were awed by the superior wisdom of the ancient goddess, Martha Venus Stewart. Scholars were convinced that this mythical and classical legend must contain at least some profound truth.

"The Birth of Martha Venus Stewart" is considered to be the solution to the mystery of exactly how Martha Stewart's divine message of domestic beauty and harmony came into the world.
---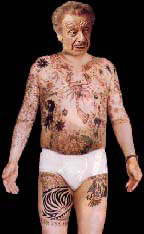 The Illustrated Man
Pen and Ink Drawing - 1998
"Thanks to Martha Stewart, I have a newly-discovered appreciation for the fine arts. Martha Stewart's recently televised museum tours have inspired and encouraged me to take up life illustration in my spare time. Plus, I've picked up some really sharp tips from Martha Stewart's craft segments on her daily TV show.

I seem to have a natural talent for drawing with colored inks in particular, and I know that the more I practice - the better I'll get. Sometimes my wife even needles me about my handicraft, but I calmly endure because all great artists suffer at some point."

(Click any tatoo to check out what other Martha Stewart "Stewies" have to say.)